Why join FoxMore?
Foxmore Communications is a VoIP wholesale provider in the wholesale telecom market. We offer only high quality non CLI and CLI routes to our customers. Globally. Every connection is backed by 24/7 NOC support that is a leader in technical customer service and ability.
VoIP stands for "Voice over Internet Protocol", it is a technology that makes calls over the internet possible. VoIP is currently exploding with popularity and customers are making the switch.
Customers are always seeking to save big on quality VoIP services, whether for their business or for their home! Here at FoxMore Communications, not only we offer affordable service packages, but we also make sure our customers experience no difficulties getting started.
You could buy your minutes from us in bulk, and easily make international calls, all while taking advantage of our top quality services, without the big price tag. Our network of direct in-country and strategic partnerships with gateway routes around the world can provide your business with the necessary tools for success, or your home with the freedom to call anywhere, for cheap!
Check out our service packages, choose the one that meets your needs and Join our satisfied-customer list today!
Wanted!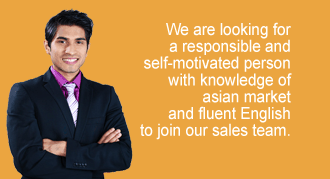 Send your details and short CV to
sales@foxmoreservices.com